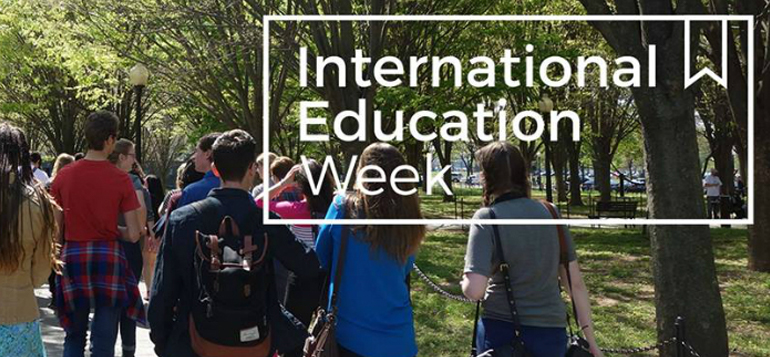 Fulbright Canada is proud to provide American and Canadian students, researchers, and scholars with international education opportunities. Through study, research, teaching, travel, and enrichment opportunities, our programs bring together American and Canadian leaders at all stages of their professional and academic careers and create opportunities for cultural and educational experiences in their neighbouring country.
Why study internationally? Immersive international experiences can transform you. More, your international experience can play a role in making the world a better place.
Fulbright Canada alumnus, Joseph R. Stinziano was a Fulbright Student in 2016-2017, from the University of Western and hosted by the University of New Mexico, explained the transformative impact of his exchange: "My interactions with people in New Mexico and America have changed my perspective on life. I've come to realize the importance of everyone's story, and this exchange has fundamentally altered my priorities in life." Being open and listening to the experiences of others can help us to grow as individuals. International experiences like Joseph's, create opportunities to understand perspectives and cultures that we may not have otherwise come across.
On a larger scale, international exchange opportunities foster mutual cultural understanding and connections between diverse people – an essential foundation for international collaboration and greater respect for cultural differences. From here, our world is better able to tackle the local and global challenges of our day be it sharing knowledge to better understand the arctic or finding partnerships and solutions that can help to effectively support the process of reconciliation.
With this in mind, this International Education Week 2017, Fulbright Canada is proud to highlight some of our key programs for students interested in studying abroad in Canada or the United States of America:
Fulbright Canada Awards for Scholars and Students
The Fulbright Program, based on the principle of reciprocal academic exchange, provides awards to both American and Canadian students (graduate or doctoral studies) to conduct research or study in their neighbouring country. The program gives students the opportunity to work in a new environment with new colleagues and creates opportunities to make connections that can foster innovation and collaborative research and enhance their understanding of their field and neighbouring country.
Fulbright Canada Alumnus, Cyrus Zhou (far left), was a Fulbright Student in 2016-2017. From Johns Hopkins University, he took up his award at the University of British Columbia. Here, he is looking at fossils alongside colleagues in the Canadian Rockies.
Undergraduate students in Canada and the U.S.A. can apply for a Killam Fellowship to study at a university in their neighbouring country. While on exchange, Killam Fellows can apply for a Mobility Grant to travel within their host country to amplify their international experience.
Fulbright Foreign Language Teaching Assistant Program
The Fulbright Foreign Language Teaching Assistant Program invites French-speaking Canadians who are also early career educators to apply to teach French in the U.S.A.
All Fulbright Canada programs would not be possible without the support of both governments, our university partners, and private donors.
We encourage you to share these opportunities. Also, if you have any questions, please contact: info@fulbright.ca.