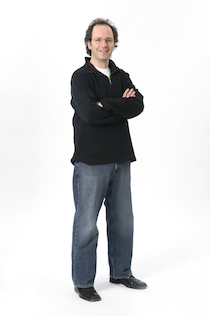 Michael Geist (1996-1997, Dalhousie University to Columbia University) is a Canadian academic, and the Canada Research Chair in Internet and E-Commerce Law at the University of Ottawa. He is an award winning scholar, named to Canada's top 40 under 40 earlier in his career, and, more recently, named one of the 50 most influential people in intellectual property by Managing Intellectual Property magazine. He was also awarded an IP3 Award by Public Knowledge, a Washington-based public interest group that defends the rights of citizens in the emerging digital culture.
"Both awards came as a surprise," Geist said in an interview with Fulbright Canada. "For a Canadian to be recognized with the IP3 Award is an exciting thing. It highlights the fact that many of the policy issues that we face in Canada are similar to those in the United States. I think that there is a real opportunity for people who are active on social policy issues on both sides of the border to collaborate with one another."
Geist holds the Canada Research Chair in Internet and E-commerce Law at the University of Ottawa. He has served as a tireless advocate on the Anti-Counterfeiting Trade Agreement (ACTA) negotiations, playing a key role in bringing transparency to the negotiation process. "Copyright policy has an enormous impact on educators and students, but also on the general public. I think that we are finally waking up to the fact that while copyright may once have been just a commercial issue, it now has a direct impact on individuals."
Geist recalls his application for a Fulbright Canada student award as being a logical step for him, both professionally and personally. "I had spent time doing graduate work in Japan and in England, and it was obvious that including the United States in my studies, given its importance within North America and from a Canadian perspective, was essential." According to Professor Geist, his time at Columbia was a crucial moment in the history of the Internet, as many of the issues that he currently works on gained prominence during his Fulbright year in the United States.
"Copyright is increasingly the source of major pressure between countries. The need for individuals to ensure that their voices are heard, and that they are part of the policy process, is absolutely essential. A lot of my work has been focused on trying to take some of these issues out of the classroom and ensure that a broader audience becomes educated about them and participates in the process."
Geist also credits his Fulbright year for providing him with a broader perspective on the United States, and for allowing him the opportunity to get to know Americans better. "Having a chance to spend a longer period of time there and to really get to know our neighbours and know other students, revealed a profoundly different perspective, one that was far different from what one picks up while on vacation and certainly far different from what one picks up on in the news. I think [that the Fulbright Program] allows for a far deeper understanding of both of our respective countries, and peoples, and that can only be a good thing."
---
Dr. Michael Geist is a law professor at the University of Ottawa where he holds the Canada Research Chair in Internet and E-commerce Law. He holds a Bachelor of Laws (LL.B.) degree from Osgoode Hall Law School, Master of Laws (LL.M.) degrees from Cambridge University in the UK and Columbia Law School in New York, and a Doctorate in Law (J.S.D.) from Columbia Law School. Dr. Geist has written numerous academic articles and government reports and was a member of Canada's National Task Force on Spam. He is an internationally syndicated columnist on technology law issues with his regular column appearing in the Toronto Star and the Ottawa Citizen. Dr. Geist is the editor of In the Public Interest: The Future of Canadian Copyright Law, published in 2005 by Irwin Law, the editor of several monthly technology law publications, and the author of a popular blog on Internet and intellectual property law issues. Dr. Geist serves on the Privacy Commissioner of Canada's Expert Advisory Board, on the Canadian Digital Information Strategy's Review Panel, and on the Information Program Sub-Board of the Open Society Institute. He has received numerous awards for his work including the Les Fowlie Award for Intellectual Freedom from the Ontario Library Association in 2009, the Electronic Frontier Foundation's Pioneer Award in 2008, Canarie's IWAY Public Leadership Award for his contribution to the development of the Internet in Canada and he was named one of Canada's Top 40 Under 40 in 2003.