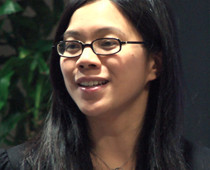 Featured Fulbrighter - Dr. Sandy Ng
Dr. Sandy Y.M. Ng was a member of the inaugural class of the new Fulbright NEXUS Scholar program. A faculty member at Queen's University, she took up her Fulbright award at Stanford University (2011-12). Her project, which was in the area of public health, and was entitled "Sustainable Cities, Better Health and Better Future," examined the health indicators of an aging population and attempted to measure and predict geographically-specific health trends and develop a strategy for needs-based planning for sustainable cities.
In an interview with Fulbright Canada in September 2011, Dr. Ng, who recently presented her research at Fulbright Canada's fall Orientation, discussed her work and her early experiences as a Fulbright NEXUS Scholar.
"I started off my career in science, having completed a PhD in Microbiology and Immunology at Queen's University.While I loved my research, I had always wanted to do more with it. I enrolled in the MA Program in Public Health and was privileged to have had the opportunity to learn from and work with giants in the policy world, such as Dr. Tom Axworthy. I fell in love with policy and strategy work, and have since aspired to use my unique background and interests to attempt to bridge the science-policy gap."
Dr. Ng notes that the Fulbright NEXUS Program was the perfect fit for her. "The NEXUS award was brought to my attention by a friend who knows of my career goals. It is a great fit, and I am truly grateful that I was chosen as a grantee in its first cohort."
Dr. Ng will spend the 2011-2012 academic year connecting with a group of young scholars, early career professionals, and mid-career applied researchers from across the Western Hemisphere, for a series of three seminar meetings in Argentina, Mexico and the United States. This group, which includes some twenty exceptional scholars, will engage in collaborative research with a focus on improving the quality of life for communities in the region. They will be conducting individual and team-based research projects designed to generate policy-oriented solutions. This year's NEXUS theme is Science, Technology and Innovation, Entrepreneurship, and Sustainable Energy.
"This award has opened so many doors for me, including guest lecturing invitations as well as opportunities to supervise graduate projects. It has also helped foster a professional network and friendships between myself and the other grantees - which is truly invaluable. Since Argentina, we have been in constant correspondence through email and teleconference and we encourage and support each other in our work."
Dr. Ng attended the second NEXUS meeting, in Queretaro Mexico, in early October. Her project, which looks at how to apply proactive urban planning strategies to build sustainable cities for the aging population, is receiving a lot of attention. "I have just returned from giving a seminar on my project in Ottawa to the incoming cohort of 2011-2012 American Fulbrighters and I am very encouraged by the positive feedback."
"At the end of my grant period, I hope to have raised awareness and create easily products that can easily be disseminated in the form of a knowledge binder and planning guide, so that people do not have to reinvent the wheel every time they approach these problems. Over the next few years, I hope to continue the dynamics of the work via collaborations, as well as graduate student projects. If, at the end of ten years, the guides and the technical tools I develop are fully adopted it would be a dream-come-true!"
Given the potential global reach of her research, Dr. Ng says that the NEXUS Program will likely serve as the lynchpin in her future plans. "This exchange has broadened my perspectives, allowed me to be immersed in other cultures, and provoked me to think of the implications of my work beyond my own country. While the possibilities are endless, it all started with NEXUS! In this globalized world, it is very important that the next generation of scholars be enlightened with a world perspective."
---
Dr. Ng holds a PhD in Health Sciences and an MA degree in Public Administration. Formerly an analyst with the Ontario Ministry of Health and Long-Term Care, where she worked in the Aging at Home work group, she is currently an Assistant Professor at Queen's University. Dr. Ng has a broad interest in infectious diseases, emergency preparedness, and elderly health. She has authored twelve peer-reviewed scientific journal publications, an independent consultation paper for Public Safety Canada ("Emergency Preparedness in Canada: Case Studies in Vulnerable Populations in Large-scale Crises", Jan 2009), and she has been invited to participate as a speaker and panellist on various health related topics.