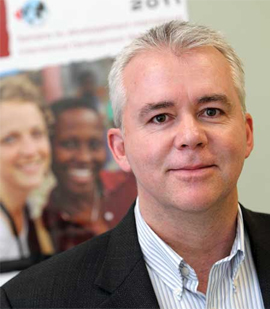 Robin McLay (1998-1999) has held a number of responsible and high profile positions. Currently working for both the Government of British Columbia and the MasterCard Foundation, Robin spoke with Fulbright Canada about his time as Executive Director of the Institute for the Study of International Development (ISID) at McGill University. Robin was a Fulbrighter from McGill University to Harvard University to conduct research for his project "Aboriginal Economic Development in Canada: Insights and Strategies from the American Indian Experience." In an interview with Fulbright Canada he described the influence his exchange has had on his career, and how his position at McGill relates to his Fulbright experience.
"It was an honour and privilege to be named the first Executive Director of McGill University's Institute for the Study of International Development. I had hoped that I could contribute to making the Institute a world class centre of excellence through a better understanding of the research-policy nexus coupled with a concerted effort to work collaboratively with think tanks, international development agencies, universities, and policy makers and researchers within developed and developing countries."
Robin's professional experience with linking policy and research made him an ideal fit for the position, and he says the ISID was particularly interested in the role he could play in creating stronger engagement between policy makers and researchers. "My previous role as Director of Research with Canada's International Development Agency afforded me the opportunity to better understand the challenges of bridging the worlds of research and policy, including the difficulties researchers face in influencing policy, as well as the challenges policy makers confront in their efforts to ensure that their policy advice is based on sound evidence."
The Institute has partnered with Fulbright Canada to offer scholarships to its Executive Education Program. Robin says the opportunity for Fulbright Canada alumni to participate is an exceptional one given the program's mandate and focus: "We are honoured and grateful that Fulbright Canada is supporting this program through a generous scholarship award."
"Our Executive Education program is designed to prepare professionals to work internationally and to provide participants with the requisite knowledge, skills and strategies to prepare themselves for opportunities to work in the field of international development. Due to the strong demand from developing countries to engage local expertise in development work, we have also been asked to work with a number of university partners to deliver sessions in the Caribbean, South Africa, Ghana and Lebanon."
It was Robin's Fulbright to Harvard that gave him the initial experience of working at the crux of policy and research and ultimately led him to his current position. "My Fulbright experience was catalytic in helping me advance my interest in understanding the relationship (or lack thereof) between research and policy."
"The program and its mission of mutual understanding helped me appreciate the importance of comparative research. The Fulbright experience motivated me to better understand the relevance of the research coming out of the United States to the Canadian context. As a Fulbright Scholar living in the United States I had access to networks and resources that would have been otherwise unavailable to me."
Robin also says his time as a Fulbrighter also opened up new doors to him professionally. "It was at the end of my Fulbright year that I was offered the opportunity to head-up the Harvard University Native American Program, and launch a number of research projects that addressed development challenges faced by Native Americans in the US, First Nations in Canada, and indigenous peoples in other parts of the world. The position provided me with a platform to do more comparative work and to engage policy researchers from both the United States and Canada."
"That experience helped me understand how research can influence policy in a practical manner through sustained engagement of researchers and policy makers. I learned that researchers must be more like activists in their approach, and make special efforts to understand how to engage and work more effectively with policy makers and decision makers in government, civil society and the private sector."
Robin credits his Fulbright for many of his successes, and he touts the program for the continuous impact that his award has had on his life beyond the Fulbright year: "I am grateful for all that the program has done to enrich my personal and professional life. My relationship with Fulbright is just as important now as it was during my first year as a Fulbright Scholar at Harvard more than a decade ago. The program continues to provide me access to important research and expand my networks around the world."
And, as a member of Fulbright Canada's Advisory Committee on Alumni Activities, Robin remains committed to ensuring the program can have the same impact for others as it has for him: "As a Fulbright Alumnus I have a certain sense of responsibility to ensure that my ongoing efforts are guided by the Fulbright mission of mutual understanding and a commitment to promoting dialogue and intellectual exchange."
Robin has earned a strong reputation for his contributions in the area of evidence-based policy making by developing creative and innovative ways of linking research to policy. He has established strong networks of key international research organizations through his leadership and membership in the International Forum of Research Donors, as a founding member of the Harvard University School of Public Health's Leadership Council and his involvement with academic institutions and think tanks around the world. Mr McLay also served as CIDA's Director of Democratic Institutions and Conflict from 2001 to 2005. Before joining government, Mr McLay worked extensively with Canada's First Nations and he spent a number of years heading up Harvard University's Native American Program – one of Harvard's ten inter-faculty initiatives. He also holds a Master of Science from the London School of Economics and a B.A. from McGill University.